Electronic program guide tab¶
If the optional STB remote control feature is active the EPG facilitates scheduling of recording events. Use the dashboard to select the entire EPG or limit the EPG to particular channels or categories.
Select the appropriate Bouquet if more than one has been configured. Bouquets are a convenient way to group multiple channels. To select a subset of the entire EPG use: services, categories and time range. In addition you can enter free form text into the keyword entry. Press <Search> to display the EPG.
Use the

customize columns icon to display relevant information. The screen shot below is displaying all columns.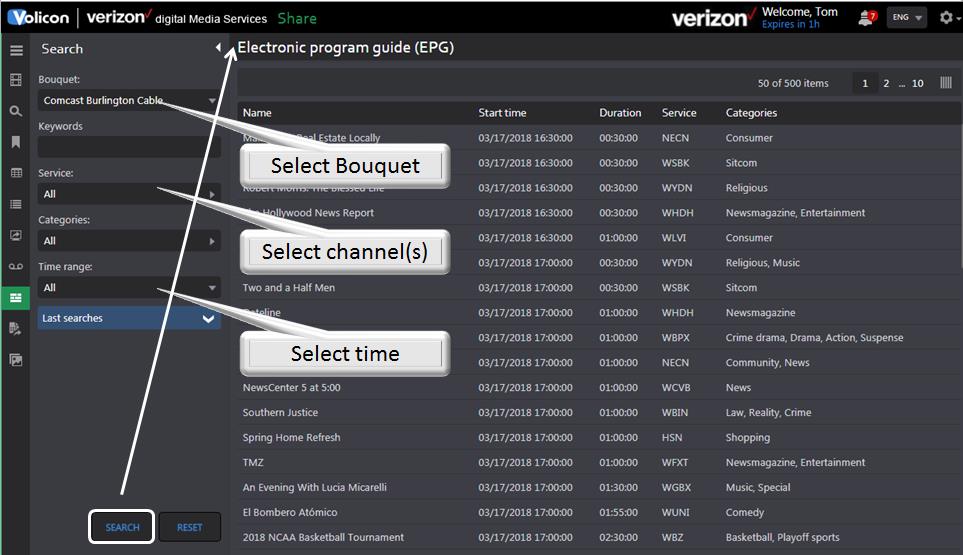 Using the EPG to schedule a recording task¶
To schedule a task from the EPG hover over the desired program. The program line is highlighted in blue. Click the <Add to scheduled recording> icon at the right of the page. Information about the program is displayed. Select an encoder and press <Save>. The job will be added to the Scheduled recording page. If it is currently being recorded Status is indicated as recording. If the event is in the future Status will display as scheduled. Once the program has been recorded, status is updated with "recorded" if the program was captured successfully or "failed" if not.