Introduction¶
Purpose and Scope¶
Welcome to the Volicon, a division of Verizon Digital Media Services Media Intelligence Platform™ (MIP) Admin Guide. This document will provide the details and instructions necessary to guide you through the configuration and operation of the MIP, addressing specific system and network administrator functions, in the Volicon, a division of Verizon Digital Media Services environment. These areas include setting up…
Inputs from video networks and set top boxes

Channel Encoders

IP network configuration

Alerting thresholds

User accounts

Other system related parameters in the MIP
It is also useful for advanced users to gain further understanding of the system.
About the Media Intelligence Platform™¶
The Media Intelligence Platform™ suite of applications transforms content creation, sharing, and monitoring of broadcast products. It allows you to create and distribute high-quality content faster while immediately enabling response to the competition, advertisers and regulatory entities. Most importantly though, the Media Intelligence Platform™ enables you to provide an improved broadcast product that will increase approval from all audiences.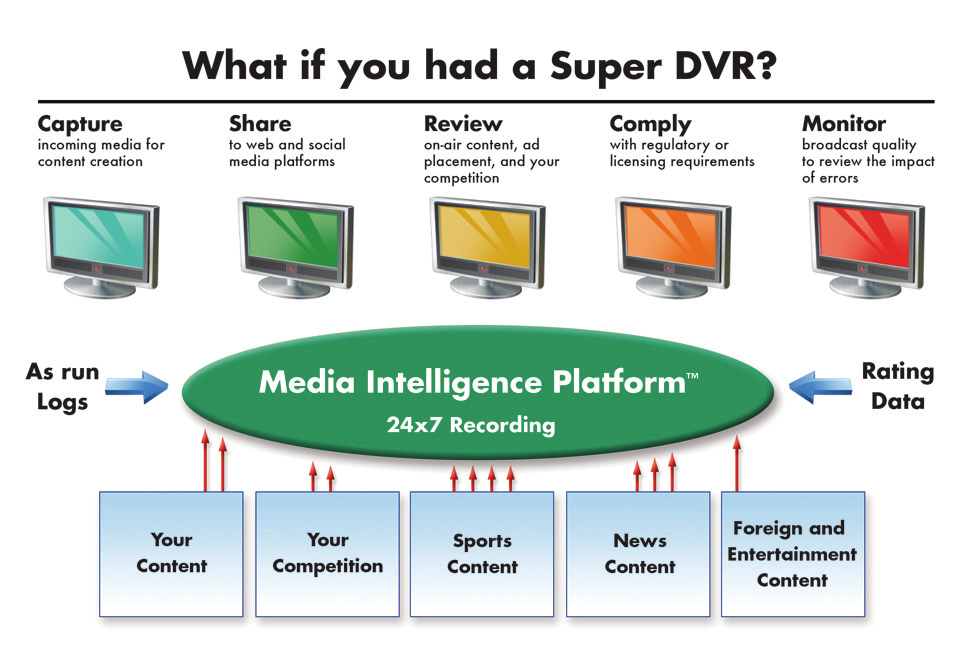 The MIP continuously ingests the video and audio from multiple sources. MIP works with networks of all sizes. The system is preconfigured with default settings so that small installations can work right out of the box. For larger installations, you can define as many Probe servers and their streams in the Central Server as you need to completely monitor your network.
Conventions Used in this Manual¶
| Type | Classification |
| --- | --- |
| Boldface | Denote names and labels in the Graphical User Interface (GUI) |
| Capitalization | Denotes key words module names, components and signal labels |
| <Boldface> | Denotes push buttons and other similar user input devices |
| @Hyperlink | Automatic links to other sections in the document, denoted by boldface and the "@" prefix |
Definitions and Acronyms¶
| | |
| --- | --- |
| 8VSB | 8-level vestigial sideband modulation - used for ATSC over the air broadcast |
| AC3 | Dolby Digital Audio Codec 3 - compression used by ATSC |
| AFD | Active Format Description - metadata describing format i.e. 4:3 or 16:9 |
| ARL | As Run Logs - use customer extracted program schedules |
| ASI | Asynchronous Serial Interface - used to carry MPEG-TS |
| ATSC | Advanced Television System Committee – set of standards for US digital television |
| Bookmark | Short program segments marked on the MIP server to facilitate auditing and sharing |
| CALM Act | Commercial Advertisement Loudness Mitigation – FCC requirement for audio loudness levels |
| CC/TT | Closed Captioning/ SMPTE Timed Text - Protocols used to add text description of the audio |
| CDN | Content Delivery Network – distributed servers used to source programs as close to the customer as possible. |
| CEM | Content Export Module – optional software package to export program clips to social media sites. |
| Clear QAM | Clear Quadrature Amplitude Modulation – non encrypted Cable video distribution |
| Component Video | Analog video with separate Red, Green, Blue channels using three RCA connectors |
| Composite Video | Analog video over a single RCA connector |
| Cron | Time based job scheduler. |
| Dialnorm | AC3 metadata used to control playback gain |
| DPI | Digital Program Insertion – Metadata that allows downstream insertion of commercial or short programs. |
| DVB | Digital Video Broadcasting - international suite of digital television standards |
| Encoder | MIP module that receives and processes media signals |
| Fault Clips | Portions of audio or video stream that fails to meet predetermined MIP quality thresholds |
| GPI | General Purpose Interface - Metadata used for broadcast automation |
| HDCP | High Bandwidth Digital Content Protection - the digital copy protection protocol built into HDMI |
| HDMI | High Definition Multimedia Interface – digital interface used to transport audio and video short distances |
| Hot Folder | Used to temporally store Asrun files |
| Maximum Time Accuracy | Provides frame-by-frame timing accuracy |
| Metadata | Additional information carried by the program used to describe program details |
| MIB | Management Information Base – database used by Simple Network Management Protocol (SNMP) |
| MIP | Media Intelligence Platform |
| MPEG | Motion Picture Expert Group - international organization that sets audio and video compression and transmission standards |
| MPEG-TS | MPEG Transport Stream - a standard container for audio, video and Program and System Information Protocol (PSIP) |
| Multiview | MIP feature that allows you to configure multiple channels and monitoring widgets into a single display screen |
| NAVE | Nielsen audio video encoder – psychoacoustic symbols inserted in programs to facilitate automatic viewer tracking |
| NTP | Network Time Protocol – Internet standard used to synchronize computer real time clocks. |
| IP | Internet Protocol – the method used to send data from one computer to another |
| Probe | Ingest server housing one or more Encoders |
| GPI | General Purpose Interface - Metadata used for broadcast automation |
| HDCP | High Bandwidth Digital Content Protection - the digital copy protection protocol built into HDMI |
| HDMI | High Definition Multimedia Interface – digital interface used to transport audio and video short distances |
| Hot Folder | Used to temporally store Asrun files |
| Maximum Time Accuracy | Provides frame-by-frame timing accuracy |
| Metadata | Additional information carried by the program used to describe program details |
| MIB | Management Information Base – database used by Simple Network Management Protocol (SNMP) |
| MIP | Media Intelligence Platform |
| MPEG | Motion Picture Expert Group - international organization that sets audio and video compression and transmission standards |
| MPEG-TS | MPEG Transport Stream - a standard container for audio, video and Program and System Information Protocol (PSIP) |
| Multiview | MIP feature that allows you to configure multiple channels and monitoring widgets into a single display screen |
| NAVE | Nielsen audio video encoder – psychoacoustic symbols inserted in programs to facilitate automatic viewer tracking |
| NTP | Network Time Protocol – Internet standard used to synchronize computer real time clocks. |
| IP | Internet Protocol – the method used to send data from one computer to another |
| Probe | Ingest server housing one or more Encoders |
| Probe Manager | Windows application used to directly manage Probe functionality |
| PSIP | Program and System Information Protocol – method used to transport program metadata such as: sub channels, program guide, and content ratings. |
| S-Video | Separate Video – Variation of analog composite video that separates luminance (black and white) from chrominance (color) to enhance video quality |
| SDI | Uncompressed standard (SD) or high definition (HD) digital video serial data interface |
| Services | A/V program content with associated metadata |
| SMPTE | Society of Motion Picture and Television Engineers – industry group that creates numerous technical standards |
| Storyboard | Sequence of video frames to assist visualization |
| W3C | World Wide Web Consortium - sets standards to advance use of the world wide web |
| XDS | Extended Data Services – analog NTSC metadata |