Common MIP Functions¶
Each of the home page icons takes you to a page optimized for a specific task. At the left side of each page is a ribbon with a varying number of icons optimized for the task at hand and color coded to the home page icons. Six icons are common to all pages. The remaining icons are unique to the high level feature. Depending on your permissions and installed optional components not all icons may be visible.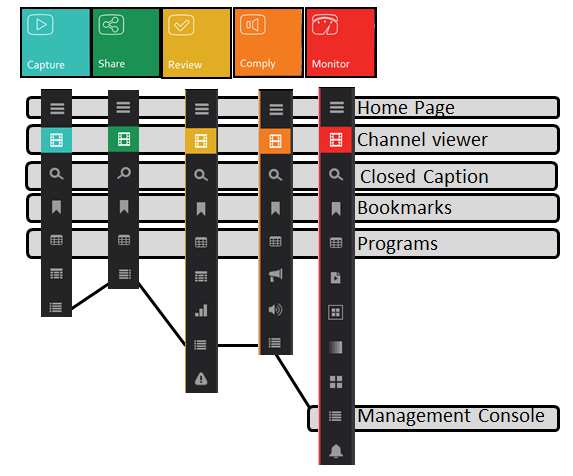 We will be using the Capture function to illustrate how to use common MIP functions and then delve into the detailed differences of each function.
Pressing the <Capture> icon on the home page opens the Capture page. Then press the

Viewer icon.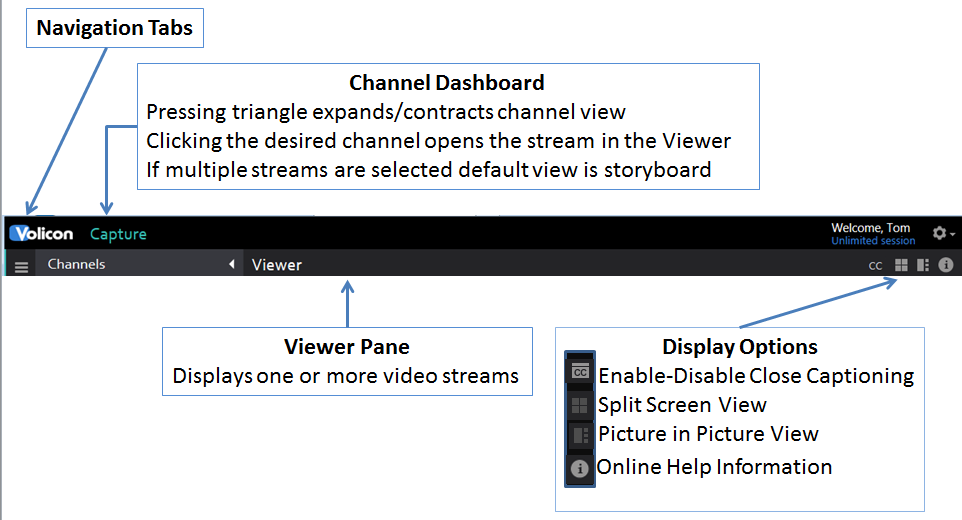 As channels are selected they appear in the viewer. If more than one channel is selected the audio of subsequent channels is inhibited. To activate audio on another channel hover over that player and left click. The channel name turns blue indicating it is the active audio channel.
At the bottom of each channel player are various controls. If the channel is available in more than one bit rate or resolution the options are displayed in a pulldown to the left of the Live icon.
If MIP does not have enough space to display all the controls they are collapsed; hovering over the control ribbon expands to display any hidden icons.
If multiple channels are selected the channel viewers are shrunk to fit the available space. Optionally channels may be displayed in split screen or picture in picture by using the controls at the top of the screen. To return from split screen or picture in picture press ESC.
The number of video streams you can watch simultaneously depends on the hardware configuration of your computer and the speed of your network connection. A 64 bit player should be able to display 24 SD channels or 12 HD.