Volicon MIP Overview¶
A firm understanding of Volicon MIP will help you with your work flow as you use it. Core MIP features:
Record and store broadcast content (multiple interface/qualities). Support a variety of input broadcast signals, with storage built to scale, different encoding qualities and proxies.

Collaborative platform to exchange content between colleagues.

Professional Multi player easy access to channels and groups of channels, with dynamic searches, PIP, full screen and split screen features.

Enhanced player professional frame by frame (even with live content) and various and fast forward and rewind speeds to allow for maximal efficiency.

On screen Metadata display with multi language, various metadata and visuals of alerts.

Content Exporting with client based and/or centralized servers.

Error Alarms MIP constantly monitors each stream and generates an alarm if it does not meet programed quality metrics.

Web-based user access with multi browser and multi OS support.

Enterprise scale Easy to configure and maintain system with access control and auditing, design for high availability, tools to ease administration and built to scale.
MIP has the ability to log content from multiple video sources in the post production, transmission, delivery, and reception video distribution chain. You can log content at any stage of the video production or delivery process: the amount of content you can log is limited only by your storage space.
MIP logs video content down to the individual frame level, at the same standard frame rate as the source. MIP allows you to log content from many different input types such as HD/SD-SDI, ASI, IP, DVB-(S, S2, T, T2), 8VSB, Clear QAM, Component, Composite, S-Video, and HDMI.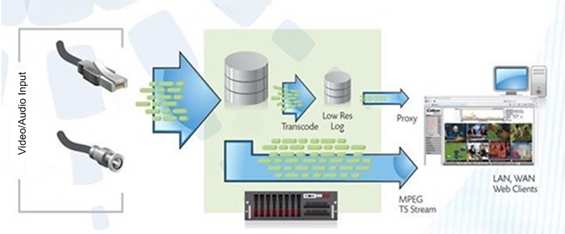 MIP constantly ingests and stores each video and audio stream in native resolution and bit rate. The Low Bit Rate Proxy (LBRP) is used to create lower resolution copies of the original stream. There are several reasons for creating a low bit rate proxy of all incoming video content:
It allows multiple users to access the Volicon solution simultaneously without interfering with one another

It minimizes impact on network resources

It allows the MIP to store content on each server for much longer periods of time